Inaugural Golf Tournament Tee and Travel
Wednesday 06 December, 2023
At Dona Julia Golf Club, we start the month of August with the tournament of the Inaugural Golf Tournament Tee and Travel.
Tee and Travel was born from the need to renew te amateur golf tournaments sector in Spain. To do this, it uses the tourism as a key factor of success, offering players who participate in their different tournaments the opportunity to win and enjoy their favourite sport outisde our borders.
This tournament will be held the 5th of August at 9:30 a.m. shotgun under the format Individual Stableford in two categories of prizes:
First Category (until Hcp 15)
Winner First Category: Trophy + wine box
Second Category (From 15,1 until 30)
Winner Second Category: Trophy + wine Box
Absolute Winner of the Tournament
Weekend for two persons in Palacio de Estoril Golf & Spa 5* included greenfees
Scratch Winner
Trophy + Suricate Linen Shirt
Best Lady Prize
Lady watch + Golf Visor Cleveland
Nearest the pin in hole 18
60º Wedge
Nearest the pin in hole 13
Iberic Ham
Longest Drive
Golf balls pack + Suricate Shorts
GREAT PRIZES RAFFLE
The price for this tournament is 70€ and includes: greenfee, buggy, welcome pack, food and drinks in the golf course during your golf round, cocktail afterwards and much more…
LIMITED PLACES!!
Book your place now through our booking form in our website or clicking here: http://www.teeandtravel.com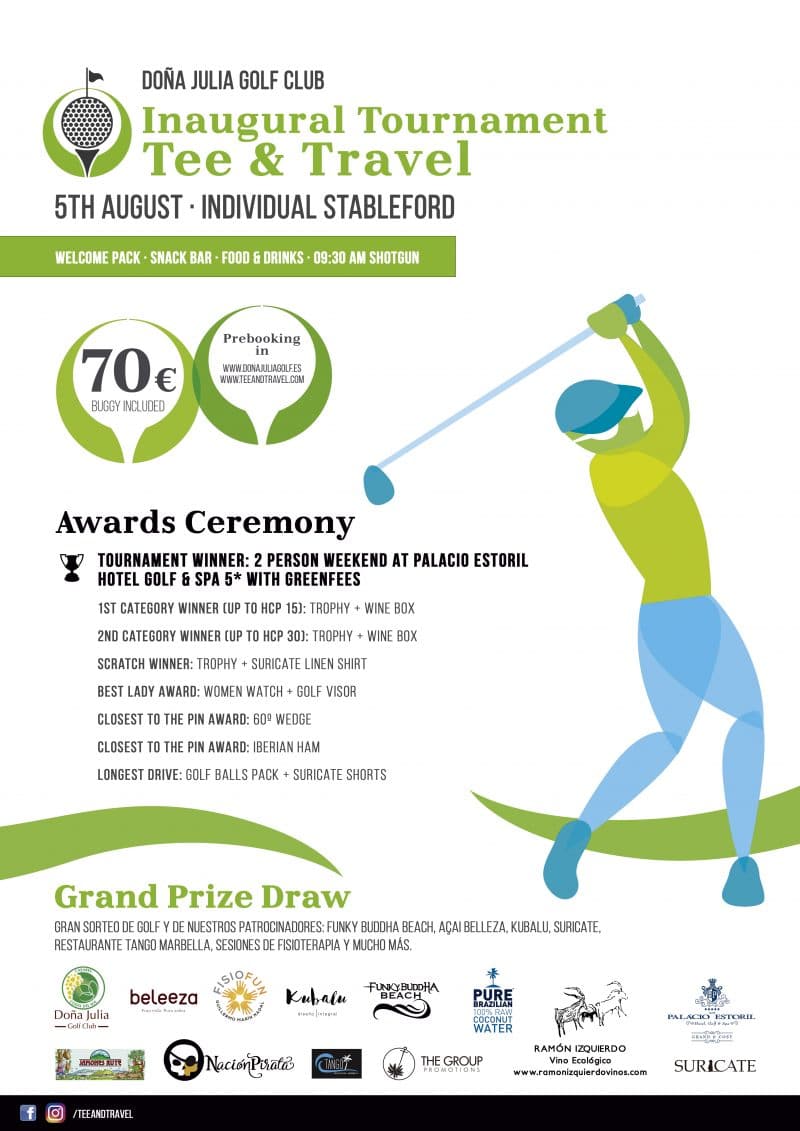 Inscripción online no disponible
Call us for more information